Blog
Essays at ease how to make the words flow
Haiden Malecot

3163
You've been trying for an hour and the words just won't start coming out. Do not worry, this happens to almost every writer. So, are there any ways to unlock your creativity and to let the inner Hemingway shine? You can try these: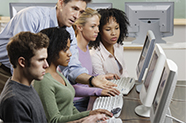 music
Some say music distracts them, but other report the opposite. All you have to do is try what works for you. May it be heavy loud industrial or silent classic symphonies – if it works for you just go for it
nutritious foods
There're food products well known for their healthy qualities. Famous boosters are almonds, tomatoes. Also, dark chocolate and sweets can help, but consider them as an urgent support and eat responsibly)
healthy workplan
Even if you're not too tired, make breaks regularly. You'll give some rest to your attention, as well as to the body. So, take some exercise or just drink water. This will make you more effective when you return to writing
experts' help
If you feel like getting some help, there's nothing easier. Let the Grade Miners help you the way you need it
Try to see the need to write as an opportunity to express your ideas, not just a boring duty. This will give the motivation to show your creative side. Have fun and don't forget referencing))).