Blog
How to Use a Quote in an Essay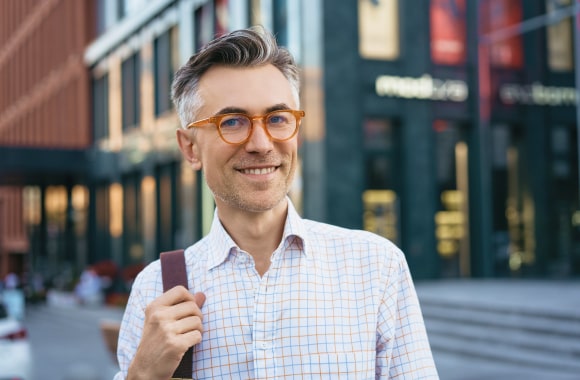 Benjamin Oaks

116K
Updated:12/19/2022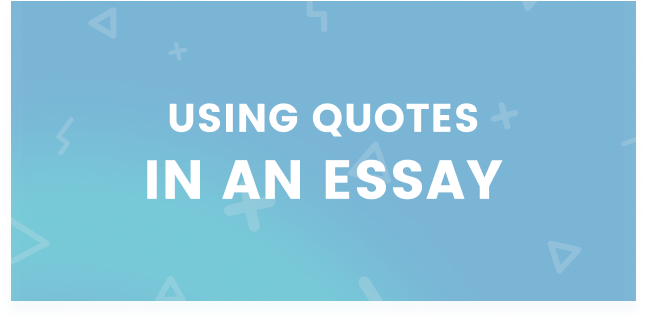 Quotations are an instrument to prove your point of view is correct. An essay aiming for 85+ score points contains 2-4 quotes. Each citation supports the thesis statement and strengthens your argument. Quotations are mostly used in Humanities. Social Sciences rely more on paraphrasing, data analysis and statistics. In Natural Sciences quotes are uncommon. Each quote has to be referenced in-text following MLA (Modern Language Association) citation style guidelines. Otherwise, an instructor will consider it plagiarizing. This guide will help you manage quotations in your essay up to the mark.
MLA in-text citation how-to
You can take a quote from different sources of information, such as books, magazines, websites or printed journals. Using quotes in an essay serves three goals:
Present additional evidence to support your point of view or oppose a claim or idea;
Help a reader better understand a topic under analysis;
Strengthen your argumentation on a topic using another writer's eloquence.
Since quotes are mostly used in Humanities, you'll have to follow MLA citation referencing guidelines. The Modern Language Association citation manual implies two types of quotes – short and long.
Short quote – Is less than 4 lines of typed text and can be embedded directly into a sentence;
Long quote – Is more than 4 lines of typed text and requires a separate content block in an essay without quotation marks.
Writing college essays, the recommendation is to use short quotes.
Parenthetical citation
Referring to the works of other authors in-text is done using a parenthetical citation. Such a method implies the author-page style of quoting. For example:
When it comes to writing, King suggests: "Write. Rewrite. When not writing or rewriting, read. I know of no shortcuts." (5)
Given the MLA in-text citation already contains King's last name, you shouldn't mention it in the parenthesis. If the author's name isn't mentioned in-text, it has to be specified in a parenthetical citation.
When it comes to writing, there's a quote I like the most: "Write. Rewrite. When not writing or rewriting, read. I know of no shortcuts." (King 5)
According to MLA guidelines, at the end of the essay, there has to be the Works Cited page. It contains the full reference featuring author's full name, the full title of the source, the volume, the issue number, the date of publishing, and the URL (if the source was found online). Here's an example of the full referencing in the Works Cited:
King, Larry L. "The Collection of Best Works." Oxford University Press, vol. 2, no. 3,

Jan.-Feb. 2017, http://www.prowritersdigest.com/editor-blogs/inspirational-quotes/72-of-the-best-quotes-about-writing.
How to start an essay with a quote?
Starting an essay with a quote is a matter of controversy. Experts in the pro camp suggest that a quote at the beginning of an essay helps make a powerful statement right from the start. Moreover, an interesting, captivating quote grabs the reader's attention right from the start.
Experts from the against camp suggest that when you begin an essay with a quote, you miss on the opportunity to present your own take on the subject matter. In their opinion, when writing the introduction, you have to rely only on your words. Whereas quotes are most useful in the main body, serving as an additional argumentation. In conclusion, a quote can be placed, too.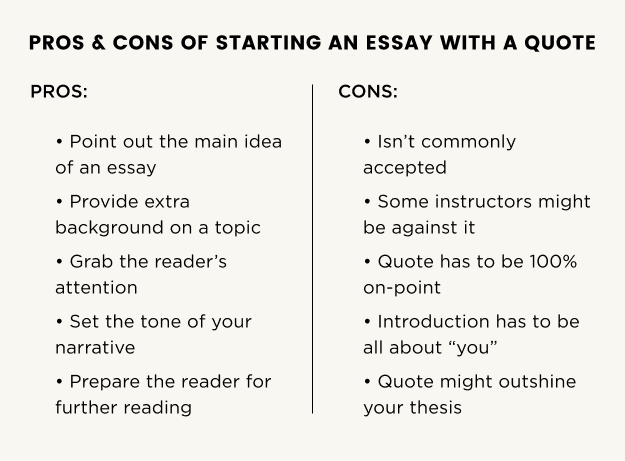 Looking to introduce a quote in an essay? Mind your p's and q's. Having a quote at the beginning or the end of your essay will limit the number of quotes left for the main body. In an essay, the number of quotes is limited that much. Otherwise, it would be a collection of quotes rather than an original essay. An instructor won't approve of such assignment and most likely forward it for revisions. We are NOT recommending to use quotes in the Introduction. Leave all your quotes for the main body and maybe one to use in the conclusion.
How to use quotes in the middle of an essay?
Main Body is the place you're meant to state a quote or two, depending on the length of a paper. A standard 5-paragraph essay will imply you to use 2-3 quotes in the main body. More quotes aren't necessary for such a short assignment. Two quotes in the main body will do just fine.
In the main body paragraph, a quote is placed in the middle of the passage. First, you introduce a focal sentence of a paragraph highlighting your point of view regarding a topic. After that, you provide the evidence data and argumentation, among which is a relevant quote. And finally, you smoothly transit to the next body paragraph or the conclusion. Here're three examples of how to present a quote in one of the main body paragraphs.
Wrong
Accurate integration of a citation in a text is key. Or the whole passage will sound off.
People who want to become a writer don't really need any piece of advice. "Those (…) who know that they really want to do this and are cut out for it, they know it."
Correct
College essay quotes have to be naturally embedded in a text.
People who want to become a writer don't really need any piece of advice: "Those (…) who know that they really want to do this and are cut out for it, they know it."
Perfect
There's also the way to write an essay with quotes in the smoothest way possible.
People who want to become a writer don't really need any piece of advice. They simply "know that they really want to do this and are cut out for it, they know it."
See how organically a quote is inserted in a sentence? That's the best-case scenario of using a quote in a sentence.
How to end an essay with a quote?
Sometimes, ending an essay with a quote is better than merely restating your thesis statement. Citations can be taken from both primary and secondary sources. Good quotes to end an essay might be of your course professor's. According to essay writing websites, quotations taken from the words of subject authorities and thought leaders will do great, too.
A quote ending an essay helps meet 5 objectives:
Provide a solid closure to your essay;
Fortify your point of view;
Give one final argument in favor of your thesis statement;
Establish your authority on a topic;
Helps your essay stand out.
Having a quotation at the end of an essay gives a good chance to score an "A".
15 tips for using quotations in an essay
Look up quotes in academic sources in the first place;
Rely on the printed matter rather than internet sources;
Avoid citing information from Wikipedia;
Give context to every quotation you use;
Always use quotation marks to avoid plagiarism-related troubles;
Explain why the quote you're about to use in a text is important;
Seek to integrate quotes smoothly in a sentence for the best effect;
Each quotation has to be attributed to the original source using parenthesis;
Gather 10-15 quotes relevant to your topic and then sift through 5 quotes that will serve you best;
Use the exact wording, punctuation, capitalization and sentence structure as in the original;
Watch your punctuation when using quotes in a sentence;
Avoid misquotations, as it's a sign of a careless attitude towards the assignment;
Use an ellipsis (…) to withdraw a part of a quote you don't actually need;
Try to use short quotes rather than long;
Avoid quoting quotes, as it's where students make mistakes most often.
5 motivational quotes for essay writing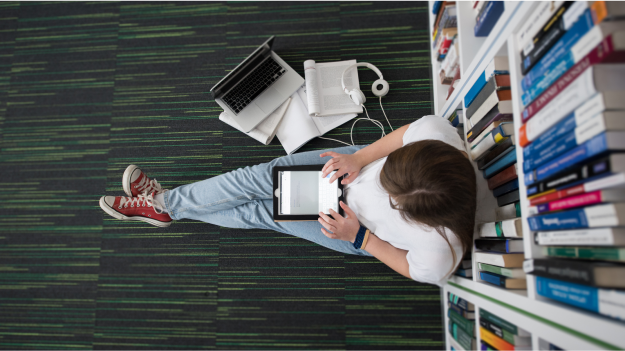 Inspiration is a staple in every great writer's routine. As a student, you might find drawing inspiration a bit too difficult. Here're a couple of inspiring essay motivation quotes to help you break through the writer's block. Or you can buy argumentative essay if doing the task yourself isn't an option.
"I don't need an alarm clock. My ideas wake me."
Ray Bradbury
"It's none of their business that you have to learn to write. Let them think you were born that way."
Ernest Hemingway
"The difference between the almost right word and the right word is … the difference between the lightning bug and the lightning."
Mark Twain
"Making people believe the unbelievable is no trick; it's work. … Belief and reader absorption come in the details: An overturned tricycle in the gutter of an abandoned neighborhood can stand for everything."
Stephen King
"To defend what you've written is a sign that you are alive."
William Zinsser
---
Many times life catches us off balance. Lots of written homework. Tight schedule. Sudden illness. Personal matters. Writer's block. An instructor returned the essay for revisions. At the moments like these, it's always a good idea to have someone to cover your back. GradeMiners can always write you a new essay, rewrite an existing draft, perform an ending an essay with a quote, or proofread your text for mistakes, typos, as well as correct the use of quotations. Let us know if you need anything, and we'll help you out!
Need help with your paper?
We help students with writing all types of papers
A+ quality • Zero plagiarism • 100% anonymity