Blog
HOW TO WRITE A PRESIDENTIAL SPEECH EXAMPLE
Jason Burrey
5

11619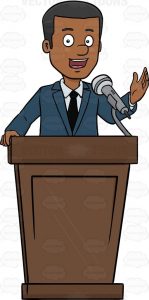 Have no idea where to begin with your presidential speech assignment? Don't beat yourself up over it. Most, if not all, presidents have no idea either. So they hire professionals to help them out. Below is a presidential speech example.
PRESIDENTIAL SPEECH DURING LABOR DAY CELEBRATIONS
My fellow Americans, Deputy Prime Minister of Britain and distinguished guests, thank you for joining us to celebrate this memorable day.
Let me begin by asking you all to stand, and to observe a moment of silence for those men, women and children who lost their lives in the recent attacks in London. Thank you. It is indeed appropriate to begin this day of commemoration with a word of encouragement and condolences to all those immediate family members and their relatives that are touched by this tragedy. Britain, we are together with you at this trying moment.
Two hundred and forty years ago today, our country become a sovereign state. We were finally free to rule ourselves; free to direct our destiny; free to meet other nations as equals. We are here because our forefathers were united and fought for our freedom. Because of brave men like John Adams, we are able to enjoy the fruits of our land. Our duty is to honor the braveness and heroism of those who won our freedom and to uphold the sovereignty of our great nation.
Am certain if those brave men who fought for our freedom were to evaluate what we have done with America since, they would be proud of us.  We have come a long way, but we could still do much better as a country. Every American deserves the chance to get ahead in this 21st century. Every American deserves a decent home, a stable source of income, a good education for their children, good health insurance, a comfortable retirement and a sense of security.
This is why over the past one year, we have put strict measures on huge banks to control mortgage rates and the rate of lending so that every American has access to credit and a decent home. We have since realized a reduction in the number of foreclosures. Our currency has also gained more value than it has in the last four years. This has led to a growth in the GDP by 9% compared to last year. Because of this, we have been able to reduce our deficit by almost half. We estimate that in the next five years, we will have totally eliminated our national debt.
Ladies and gentlemen, my administration is determined to bring prosperity to this nation by nurturing its youth. Our children are the leaders of tomorrow. Their energy and innovations are our driving force. That is why we are working on a program that will subsidize the cost of education up to high school level by up to 50%. In this program, the government will cover all tuition fees in public school so that every child, regardless of their social, economic or ethnic background, has access to quality education. America is the land of opportunity and we believe every child should be given a fair chance. This program will roll out in two years and we hope that even our future generations will reap the fruits of our investments.
Ladies and gentlemen, our fathers fought for our freedom so that we could govern ourselves. The destiny of our beloved country is in our hands. As we head towards the elections, may we be mindful of our neighbors. Let us maintain peace, love and unity throughout the elections and always remember what America stands for. Our freedom fighters fought for us to be one, let us remain as one. Thank you. God bless you and God bless America.
Don't feel any pressure, we know students have very hectic lives and we cannot expect you to muster speech writing skills in a day. You can also hire a professional to help you out that is what we are here for. Just go to our website and place your order now for a unique winning speech.
Get your original paper
Free!